Choosing the best gas heater for your pool means taking several factors into consideration: your pool size, your climate, and how long you want to extend your swim season. But beyond that, you also need to think about which kind of gas to use, how easy it is to install the heater, and whether it can be used with an above ground pool or inground pool. And a good gas heater should be powerful and with a decent warranty from a reputable brand.
Keeping these criteria in mind, our two picks for the best natural gas and propane gas pool heaters are:
For smaller or above ground pools, we recommend the Pentair MasterTemp 125 Pool Heater
The type of heater you choose depends on the type of gas you have available. Natural gas pool heaters require a gas line for installation. If lines aren't available on your property, you'll either need to pay to have them installed, or opt for a propane pool heater. And keep in mind that propane heaters tend to be more expensive to run than natural gas.
Curious about how gas pool heaters work and the features you should look for? Keep reading for our complete guide to the best natural gas and propane pool heaters.
FYI: We're a small team of pool industry experts and researchers that care about recommending quality, reliable pool products. If you do choose to click a link and buy any of the products we recommend, we earn a commission at no additional cost to you.
Best Natural Gas Pool Heater: Raypak Digital Electronic Ignition
This natural gas heater from Raypak uses an electronic ignition system that keeps your water consistently warm. It will automatically start whenever it finds the pool's water temperature has fallen below your preset levels. And the LCD screen ensures that you can easily set and monitor temperature at any time.
Ranging from 206,000 BTU to 399,000 BTU, this heater works with both above ground and inground pools. However, if you have a small above ground pool, you may find even the smallest BTU has too much power.
Best Propane Pool Heater: Hayward Universal H-Series
If you need a propane heater, the Hayward Universal H-Series is a great option. With units available from 150,000 BTU to 400,000 BTU, you'll be able to find the option that works best for your pool size and climate. Best of all, it's a low NOx model, so it's environmentally friendly and meets standards for areas where low NOx units are required.
Unfortunately, this particular model is designed only for inground pools. Pool owners with smaller or above ground pools should consider the Pentair MasterTemp 125.
Best Budget Propane Gas Pool Heater: Pentair MasterTemp 125
The Pentair MasterTemp 125 is not only perfectly sized for smaller or above ground pools, but it also costs half as much as other heaters. Its compact design is powerful enough to heat pools up to 15,000 gallons and is best suited for above ground pools. It's also low noX certified, which means low emissions.
With user-friendly indicator lights, the Pentair MasterTemp 125 is simple to operate and monitor. And its corrosion and UV-resistant housing make it a durable, long-lasting heater.
By the way, if you need more help taking care of your pool, be sure to check out our pool maintenance video course. 
How Do Gas Pool Heaters Work?
You'll find some gas heaters that run on natural gas and some that run on propane gas. Fundamentally, the two work the same way.
As your pool's pump circulates water, water comes out of the pool, through a filter, and into the heater. The gas (fuel) burns in the combustion chamber to generate heat to warm up the water, and then sends it back out into the pool.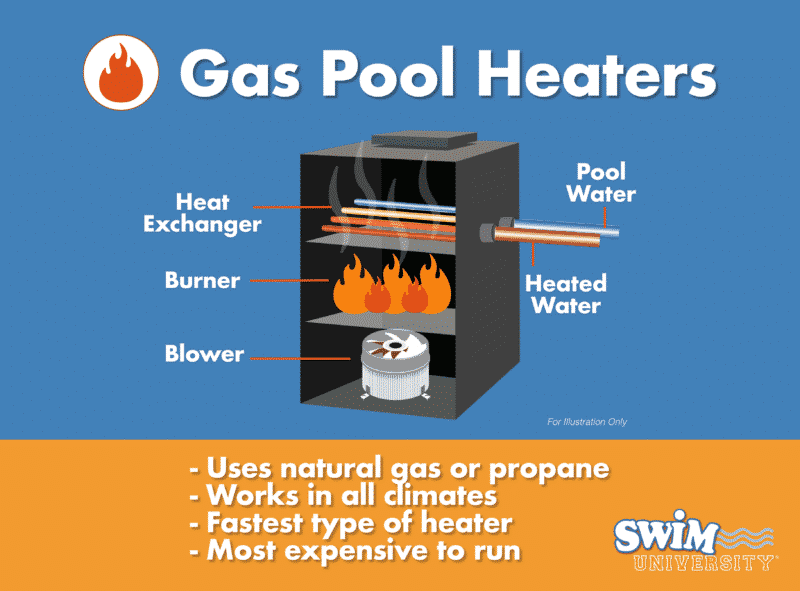 Gas heaters warm up your pool faster than electric pool heaters (pool heat pumps) or solar pool heaters. They're also the most effective option for pool heating when temperatures are colder.
Natural Gas vs. Propane Pool Heaters: Which One is Better?
Natural gas and propane pool heaters work the same way. The difference lies in the fuel they use. Both fuels are colorless and odorless. And both are clean-burning fossil fuels, but that's not all that matters.
Natural gas comes to your property via gas lines, so it may not be available in your local area. And propane is delivered via large tanks. With a natural gas line, you'll never have to worry about running out of fuel. But propane is more energy-dense than natural gas, so you get more energy from it than you would the same amount of natural gas.
That said, natural gas is much cheaper than propane. In fact, you could save thousands each year using natural gas. It costs an average of $2,500 to $10,200 a year ($200 to $850/month) to run a propane pool heater (depending on location, pool size, and swim season). Natural gas, on the other hand, costs an average of $1,400 to $4,800 per year (about $100 to $400 a month).
If the cost of natural gas is 40% of the cost of propane in your area, then natural gas is the cheaper option for heating your pool water.
The cost to purchase the heaters will be about the same. And installation costs are similar as well. But it really comes down to your access to natural gas and the cost of fuel in your local area.
How To Choose The Best Gas Pool Heater
Pool Size
The bigger your pool, the more BTUs you'll need to heat it. Smaller pools, up to 13,000 gallons can generally get by with lower BTU models (as low as 50,000 BTU). If you've got a larger pool, with 18,000 gallons or more, you'll need more power.
Climate and Pool Temperature
If you live in a warmer area, you can get by with a smaller unit, since your heater won't have to work as hard to heat water to your desired temperature. But if you live in a colder climate or you want a year-round swimming season, you'll need a larger unit to account for the seasonal changes in outdoor air temperature.
Where Your Pool Heater is Located
Your gas heater will generally sit next to the pool, or in a nearby shed. The heater must be placed where it can connect to the pool pump and water filtration system. That means you'll need plenty of room and the ability to connect it to your gas line, propane tank, and electricity.
Installation Requirements
If you were hoping for a DIY pool heater installation, we're sorry to say that gas heaters are the most difficult to install. Why? They need both gas and electrical connections. So it's best to hire a pool professional to install it for you.
The installation costs vary depending on where you live and whether or not you need to alter any of your existing pool plumbing or groundwork to install it.
Heat Conservation
Your heater will be insulated with either plastic or foam to keep as much heat in the water as it flows through the system. The better insulated your heater is, the better it can maintain a warm water temperature with less effort. When your system doesn't have to work as hard, it will last longer, and you save energy. If you really want to save energy, use a pool cover to hold in the heat while the pool's not in use.
Heater Casing
The heater casing is a special material designed to protect your equipment from water, temperature fluctuations, impact damage, etc. Aesthetically, they're also designed to blend in with your surroundings so they don't ruin your decor.
Winterization
No matter what type of pool heater you buy, you'll need to winterize it. Winterizing your equipment prepares your pool and all of its components, including the heater, for the colder part of the year. To winterize a gas pool heater, you'll need to disconnect all the hoses and power sources. Then remove all the water with a shop vac and store all the components in a dry location.
Maintenance
Just like you have to maintain the right water chemistry in your pool, you'll also need to regularly maintain your pool heater. Doing so ensures it's in good working order for years and extends its lifespan.
And if you don't maintain the chemicals in your pool, especially your pH, you can wear out your gas pool heat exchanger.
Have your gas heater professionally inspected every six months if you operate a year-round swimming season, and once a year if you don't.
If you're worried about regular maintenance and repair costs, choose a pool water heater that features an extended warranty. This will make it easier to cover service and parts, or a replacement unit, should the need arise.
Frequently Asked Questions About Gas Pool Heaters
Need more help picking out the best pool heater? Here are some common questions and answers.
Is a gas pool heater worth it?
Gas pool heaters are more effective at heating your water compared to electric or solar heaters. It's the most efficient way to heat pools in colder areas and the best way to extend your pool season. But if you live in a warmer climate or you want to spend less money on running your heater, a gas heater may not be the best option.
Are gas pool heaters expensive to run?
The operating costs to run a gas heater will depend on the cost of gas in your area and how much you run it. And keep in mind that natural gas costs less than propane. It costs an average of $200 to $850 per month to run a propane pool heater vs. $100 to $400 per month for a gas heater.
How much does a gas pool heater cost?
A gas heater will cost you an average of $2,000 to $3,000, depending on its size, BTUs, and the manufacturer. While they do cost more initially than other types of pool heaters, they're the best option for heating pools quickly and keeping water warm in cooler climates.
How long does it take to heat a pool with natural gas?
The amount of time it takes to heat your pool depends on your pool size, the BTUs of your pool heater, and your desired temperature. Use this formula to get an estimate: Gallons of water x Weight per gallon (8.33 lbs) x Degrees of temperature increase / BTU output of the heater.
For example, here's the amount of time it takes to raise the temperature in a 15,000 gallon pool by 10 degrees with a 100,000 BTU heater:
15,000 x 8.33 = 124,950
124,950 x 10 degrees = 1,249,500 BTUs needed to heat the water 10 degrees
1,249,500 / 100,000 (BTU output) = 12.495 hours
What is the cost to heat a pool with propane vs. natural gas?
Expect to spend anywhere from $200-$850 a month with a propane pool heater or $100-$400 a month with natural gas. Propane may be more energy-dense and require less fuel than natural gas, but propane is usually more expensive than natural gas.
If the cost of natural gas is 40% of the cost of propane in your area, then natural gas is the cheaper way to heat your pool.
What size pool heater should I get?
To figure out the right pool heater for your needs, you'll need to know your pool's volume (you can use our pool volume calculator). Then reference the pool heater's guidelines regarding BTUs and pool size. It's always a good idea to go higher, particularly with a gas heater. A bigger BTU unit helps to warm up your pool faster and compensate for the loss.
How long does a gas heater last?
Your gas pool heater should last an average of 10 years. Regular maintenance will extend its overall lifespan, so pool owners should factor that into ongoing costs. If you go extended periods without using it, always have it inspected and conduct any necessary maintenance and repair before starting it up again.
Need More Pool Maintenance Help?
The post Best Gas Pool Heaters of 2023 (Propane and Natural Gas) appeared first on Swim University®.