A salt water system is a great investment if you're tired of buying and adding chlorine and you're looking to spend less time managing your pool water chemistry. But before you buy a salt water chlorinator (also known as a salt water generator), there are a few things to keep in mind:
Salt water pools are still chlorine pools. The salt water generator converts salt into chlorine. So instead of adding chlorine directly to your water, you're adding salt.
You'll save money on chemicals, but you'll spend more money on equipment. The units themselves usually cost over $1,000 and you'll need to buy replacement salt cells every 5 years.
You won't need to buy, handle or add chlorine ever again. You'll never have to add weekly doses of chlorine to your pool! But you'll still need to test your water chemistry and keep an eye on your salt water generator to make sure it's working properly.
With that in mind, if you're in the market for a salt water system, we recommend the Hayward Salt Chlorination System. It has one of the longest lifespans compared to other units and you'll get full control over your chlorine output levels.
However, if you have limited space to install your salt system, the Pentair IntelliChlor is an alternative, more compact option. Just keep in mind that its replacement parts are more expensive. Finally, if you have a smaller above ground pool and you're looking for a budget-friendly salt system, check out the Krystal Clear Intex Salt Water System.
Keep reading for more information about each option and whether or not a salt water system is worth it for your pool.
The Best Salt Water Pool Systems
No matter what type of salt water system you choose, always purchase from a reputable brand and look for salt water generators that come with a decent warranty. You'll need to replace your salt cell every 5-7 years, so you'll want to make sure you're able to find replacement parts in the future. Finally, before making any purchase, double-check for compatibility with your pool and plumbing setup.
Best Overall: Hayward Salt Chlorination System
This Hayward Salt Water System is ideal for inground pools up to 40,000 gallons. Installation is relatively easy and the digital display makes it simple to adjust your chlorine output. It works well with other pool automation systems to allow you more customizable programming options. And it includes the Hayward TurboCell Salt Chlorination CELL-15, which comes with a 3-year warranty.
The only downside to this system is that it takes up more room than other salt chlorine generators. But if you can find the space, the Hayward Salt Water System is worth it for its longevity and ease of use.
Runner Up: Pentair IntelliChlor Salt Chlorine Generator
Because of its compact size, the Pentair IntelliChlor is easy to install in almost any pool plumbing set up. It features an easy-to-view display so you can keep an eye on salt levels, cell condition, and water cleanliness. It's also available in multiple models, making this a flexible choice for all pool sizes, working with both smaller pools (up to 20,000 gallons) and larger pools (up to 60,000 gallons).
However, you will need to purchase an IntelliChlor power center, sold separately, to make this unit work. And because this is an "all-in-one" unit, the replacement cells cost more compared to other salt water systems. So expect to spend more money in the future compared to other salt water chlorinators.
Best Budget: Intex Krystal Clear
The Intex Krystal Clear Salt Water System is a popular, affordable option for above ground, small pools up to 15,000 gallons. Whether you have a new or existing pool, you can install it with no additional plumbing required. It comes with adapters that allow you to add it to other types of pools beyond Intex. And it features a programmable digital timer that lets you easily control chlorine output.
However, it can be more challenging to find replacement parts with this brand. And it does require you have a pump installed with a flow rate of at least 700 gallons per hour (GPH).
How Does a Salt Water Pool System Work?
A salt water pool still sanitizes your water with chlorine, just like a traditional pool. But instead of purchasing and adding chlorine to your water, you use pool-grade salt, sodium chloride.
The generator uses electrolysis to separate the salt in the pool water into two primary components, one of which is chlorine. But even after the chlorine is made, the salt stays in the water and gets recycled and reused by the salt water chlorinator.
Salt water swimming pools generally need salt levels of 3,000 parts per million (PPM) before the generator will start working. That's the same salinity as human tears, so your pool water won't be salty like ocean water.
By the way, if you have other questions about pool chemistry and pool maintenance, check out our Pool Care Video Course.
How Much Does a Salt Water System Cost?
On average, most high-quality salt water chlorinators cost over $1,000. You'll also have the cost of salt cell replacements about every 5 years, which can cost several hundred dollars. The larger your pool, the more expensive your salt water system will be.
Are Salt Water Systems Worth It?
With a salt water system, you never have to worry about buying, handling, and adding chlorine again. And salt water chlorinators produce a steadier, more consistent flow of chlorine in your pool water. That means you're more likely to avoid algae issues, contaminant build-up, and chloramines (the byproduct of used-up chlorine). That means no chlorine-like smell and less skin and eye irritation for swimmers.
Salt water systems also require less hands-on chemical maintenance. Instead of manually adding chlorine granules or liquid, simply add salt to your pool water and your chlorine generator creates a steady, consistent flow of chlorine. And salt water systems include flow switches to control chlorine output.
Finally, buying and using salt is much cheaper than chlorine. A salt chlorine generator produces chlorine at approximately $1/pound. Whereas purchasing chlorine at your local pool supply store puts it at $2 to $4 a pound.
That said, of course, salt water pool systems aren't the ideal choice for all pool owners. They do come with a higher initial investment (over $1,000 before installation). And you'll also have to pay for a salt cell replacement about every 5 years. And that can cost several hundred dollars. But again, you'll be spending less money each year on chlorine.
Also, any build-up of salt will corrode pool equipment, especially any metal that's in or around your pool. This includes screws, heaters, lights, patio furniture, and diving board attachments. And salt water splash out is corrosive if it builds up on pool landscaping or coping.
But overall, a salt water system is a great investment for any pool owner looking to avoid handling and adding chlorine to their water while keeping their pool consistently sanitized.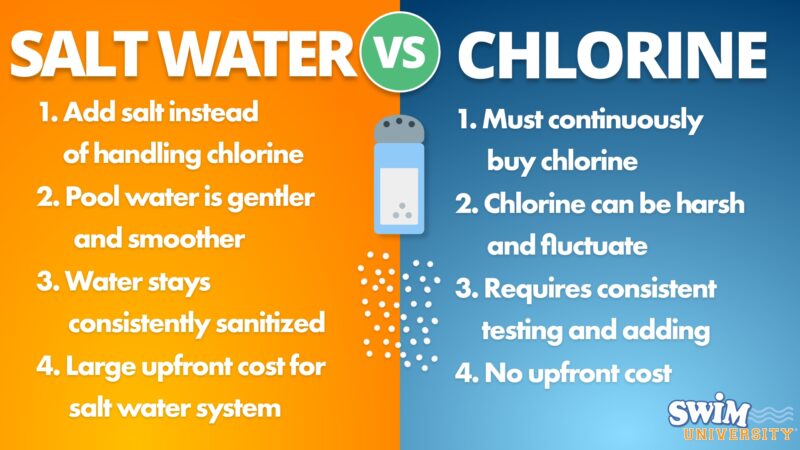 Frequently Asked Questions About Salt Water Pool Systems
Need more help deciding if a salt water generator is right for your pool? Here are some commonly asked questions and answers.
What are the disadvantages of salt water pools?
Because salt water pools are more complex to maintain than traditional pools, they may require experienced technicians to take care of even minor issues. And if salt builds up on equipment or surfaces, it can erode your pool equipment and parts. That includes pool heaters, pool lights and fixtures, liners, and masonry work around the edge of your pool.
Is it cheaper to run a salt water pool compared to a chlorine pool?
Pool salt costs significantly less than chlorine and you'll likely only need to add it to your water once or twice a year. But you'll likely have higher electricity costs because you're running a salt water generator. A 20,000-gallon salt water pool uses an additional 500 watts of electricity to power the salt water generator. That translates to around $40 to $50 more a year in electric costs. But you'll likely save that amount of money (or more) by not having to buy chlorine.
Are salt water pools hard to maintain?
No, salt water pools are not hard to maintain but the equipment itself (the salt water chlorinator) may require professional maintenance and repair. But while you may need to hire out help for the salt water system itself, you won't have to deal with buying, storing, and adding chlorine to your pool water.
Can you switch from chlorine to salt water pool?
Yes, it's very simple to convert a traditional chlorine pool to a salt water pool. All you have to do is install the chlorination system and add pool salt to the water. From there, the generator will produce chlorine for you. Remember, chlorine is the sanitizer in both pools! For a step-by-step guide, be sure to check out our guide on Salt Water Pool Conversion.
Do salt water pools get algae?
Salt water pools are still susceptible to algae blooms, but the continuous and steady supply of chlorine from the salt chlorine generator should help prevent green water. Most generators have a super chlorination feature to increase your chlorine level and kill contaminants. But you may need to shock your pool if you're already dealing with a significant algae issue.
Need More Pool Maintenance Help?
The post Salt Water Pool Systems: What's the Best One and Are They Worth It? appeared first on Swim University®.