Choosing the best heater for your above ground pool means finding the best fit based on your pool size and your local climate. It also means considering a heater's energy efficiency, how quickly it heats your water, and how easy it is to install. And a reliable pool heater should not only help extend your pool season but last you for years.
With those criteria in mind, our picks for the best above ground pool heater are:
Natural gas heaters and heat pumps are more powerful but the units cost several thousands of dollars. On the other hand, passive solar heaters like the SolarPro only cost a few hundred but are far less effective at heating your water.
For more information about how these heaters work and what features to look for, keep reading for our complete guide to the best above ground swimming pool heaters.
FYI: We're a small team of pool industry experts and researchers that care about recommending quality, reliable pool products. If you do choose to click a link and buy any of the products we recommend, we earn a commission at no additional cost to you.
How Do You Choose the Best Above Ground Pool Heater?
If you live in a colder climate or need to heat a larger pool quickly, we recommend the Raypak Natural Gas Heater. Gas heaters can heat your water up by 30 degrees in some cases. You will, however, pay for that power with the cost of the heater itself and a higher utility bill.
For the most energy-efficient option that doesn't sacrifice power, consider the Hayward Electric Pool Heat Pump. It works well in mild climates, utilizing ambient heat from the air to help you save you money on your electric bill. Keep in mind that even though the heat pump is more energy-efficient, it may not work well in extremely cold temperatures.
But if you live somewhere with plenty of sunlight and don't mind waiting for your pool to heat up, the SolarPRO Solar Heater is an extremely affordable option (a few hundred dollars) and very energy-efficient. It will just take several days to heat up your pool water and only by a few degrees.
Finally, if you're specifically looking for a propane gas option and don't mind sacrificing some power to save money, we recommend the Pentair MasterTemp 125.
The Best Above Ground Gas Pool Heater: Raypak Natural Gas Heater
The Raypak Digital Electronic Ignition Natural Gas Pool Heater is the most powerful above-ground pool heater option. It uses an electronic ignition that will automatically start the system when the pool's temperature falls below your preset preferred temperature. Featuring an LCD display, you can easily see and set the temperature on the thermostat at any time. And gas-powered heat means heating your pool water quickly in any climate.
The Raypak heater is available in several models, from 206,000 BTUs to 399,000 BTUs, to accommodate different size pools. However, it does require access to a natural gas line. That means not only is this heater a significant upfront cost, but the installation can also be pricey.
The Best Above Ground Electric Heater: Hayward HeatPro Heat Pump
The Hayward HeatPro heat pump is an energy-efficient option for pools up to 13,000 gallons, 24 feet round, and 15 x 30 feet oval pools. It features a high-efficiency titanium heat exchanger and a cooling mode to cool water temperature if needed.
This heat pump runs quietly with a defrost system that allows it to start in lower temperatures. It's also a "Low Nox" heater, which means it minimizes levels of nitrogen-oxide, making it more environmentally friendly.
A heat pump like the Hayward HeatPro will help you heat your pool quickly and efficiently. Though it's not as powerful as a gas heater and still costs several thousands of dollars, it's a bit easier to install (though it may still require an outside contractor).
The Best Above Ground Solar Pool Heater: GAME 72000-BB SolarPRO
An extremely affordable heater option, the GAME 72000-BB SolarPro has a unique curved shape to help maximize heat collection. Plus, because it doesn't lie flat on the ground, this solar collector won't kill your grass. It features threaded ports for plumbing options and adjustable legs, making it compatible with a variety of manufacturers, including Intex and Bestway above ground pools.
However, a solar heater will heat your water much slower than a gas or electric heat pump. If you have an 8,000-gallon pool, you can expect an increase of five degrees in four days. So if you need more heating power or have a larger pool, you'll need multiple solar heaters. And that means you'll need to purchase bypass kits to connect each one.
The Best Alternative Above Ground Pool Heater: Pentair MasterTemp 125
Available as a propane or a natural gas solution, the Pentair MasterTemp 125 is a slightly more affordable on-demand heater option. If you have a smaller pool (up to 17,500 gallons), this heater may be a perfect size. At only 80 pounds, its compact design makes it easy to fit in smaller spaces where other heaters just won't go. And its rotating digital display lets you easily see your current pool water temperature.
By the way, if you need more help taking care of your pool, be sure to check out our pool maintenance video course.
How Do Different Types of Pool Heaters Work?
Pool heaters are available in three types: gas, electric, and solar. And each has pros and cons, including price, energy efficiency, and the ability to heat your water quickly.
Gas Pool Heaters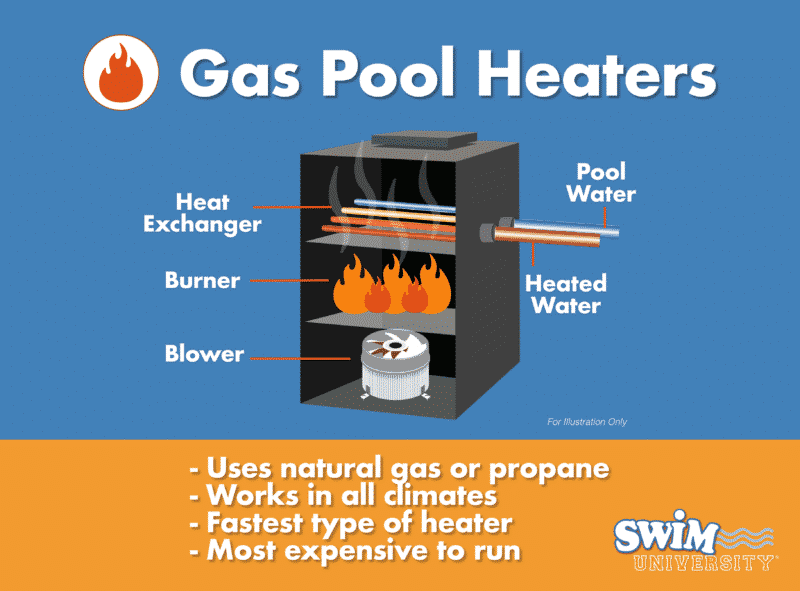 Gas pool heaters use either natural gas or propane gas to heat your pool. Pool water passes through the heater while a combustion chamber burns the gas. Then the heated water passes back into your pool.
If you're in a cooler climate or you need to heat your pool quickly, a gas pool heater is most effective. Gas heaters can produce more heat in shorter periods of time. But compared to other heaters, they're more expensive to operate. Propane or natural gas tends to cost more than the electricity used for a heat pump.
If you want to use natural gas, you'll need a gas line near your pool. But if you don't already have one, you'll also need to pay for not only the heater installation but a gas line as well.
Electric Pool Heaters and Pool Heat Pumps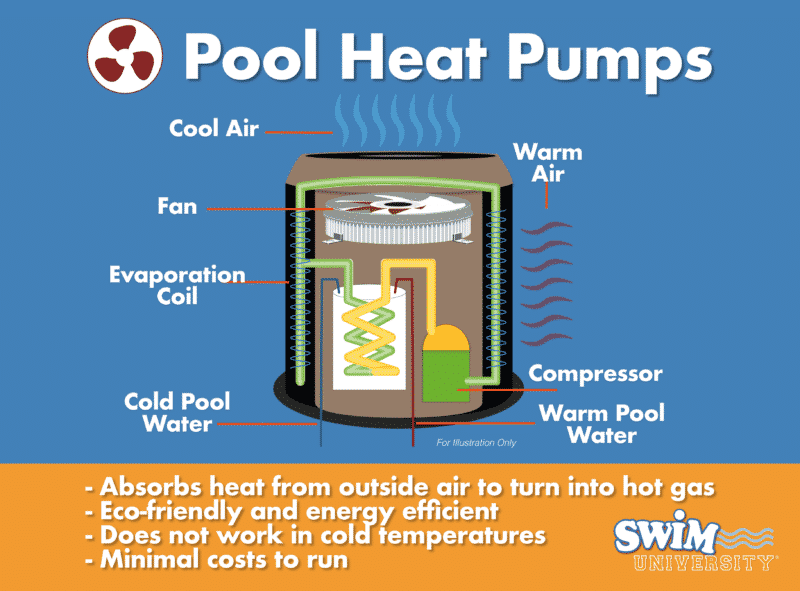 There are two types of electric pool heaters: a direct flow heater and a pool heat pump. The direct flow heater works much the same way as a tankless water heater, heating the water on demand as it passes through. And it requires electricity to generate heat.
On the other hand, a pool heat pump uses the warmth from the ambient, outside air to warm up your pool water. It's the same way your home's air conditioning system works but in reverse.
Direct flow electric heaters can be expensive to operate, hiking up your electricity bill in the pool season. But a pool heat pump is much more energy-efficient and costs much less to run. However, they won't work well in colder temperatures since they rely on warmer, outside air to work.
Solar Pool Heaters
Powered by the sun's heat, solar pool heaters come in a wide range of options. The simplest solar heaters use black coils to harness the sun's rays to warm up your water. After exiting your filter pump, your pool water passes through the heated black tubing or solar dome before it's transferred back into your pool.
More complex solar setups require solar panel installation and permanent plumbing fixtures. But the simplest solar heaters are easy to install, energy-efficient, and affordable. On-the-ground solar heaters with black tubing, however, take the longest to heat up your water.
For this type of above ground pool heater to work, you need lots of sunny, warm days to heat up your water. But if you do live in a hotter climate, a solar pool heater is the least expensive and most energy-efficient option.
Keep in mind that solar blankets and solar covers aren't meant to directly heat your poo. These solar options stop evaporation and keep heat and water from dissipating, especially at night. But they don't necessarily actively heat your pool. So solar blankets are a great compliment to a pool heater system but not a substitute.
How to Choose the Best Heater for Your Pool
Location
Where your pool heater goes may not seem all that important, but, you may need to use things from your yard or home to install it. A gas pool heater typically sits next to the pool or a nearby shed so it can connect to your pool's water filter and pump system. They're bigger than their electric equivalents, but require a lot less room compared to a solar heater. However, some do require access to a natural gas line.
An electric heater can be 50% smaller than the gas version. They are generally installed next to the pool or with the filter and pump. And they obviously need access to electricity.
Finally, a solar pool heater will take up more space and require more planning before you install them. Some will sit near the pool, while some can go on the decking or fencing. And you will need access to direct sunlight. So it's crucial to measure and plan the layout to make sure there's adequate space available.
Ease of Installation
If you're planning for a DIY installation, passive solar pool heaters are the easiest option. They require no extra electric or gas hookups.
If you are looking to have an electric pool heater installed, you may be able to install this yourself. But even if you successfully connect the piping for the flow of the water, it's always better to have an electrician connect the system and confirm that everything is working properly since the electrical equipment is around water.
A natural gas pool heating system is the most difficult to set up because it often requires both gas and electrical connections. As with an electric heater, it's better to hire a professional to make sure the gas connections are secure before you start to use the pool heater. You may also need a natural gas line installed if you don't have one.
Pool Size
The larger your pool volume, the harder your pool water heater will have to work. Because of this, it's rare to use a passive solar pool heater if you have a huge pool. But if you do want to use solar energy to heat your swimming pool, you can add additional panels to keep the water warm. If you have a very large pool, opt for a gas or electric heater.
Note: Pool heaters use British Thermal Units (BTUs) to indicate heat potential. A single BTU increases the temperature of 1 lb of water by 1 degree, a heater with a higher BTU will heat your water faster. Be sure to check the heater's BTU or pool size capacity before buying.
In-Season Water Temperature
Climate is a major factor in deciding on the best pool heater for your pool. In warmer climates, nearly any pool heater will work. It's also likely that you won't need a heater that's as powerful to keep your pool at the right temperature.
For warmer areas, an electric heat pump or a solar pool heater is an effective choice because they pull heat from the outdoor air or natural sunlight. In cooler climates, you'll likely require the power of the gas pool heater.
Heater Casing
Both electric and gas pool heaters have casings to protect the equipment from water, fluctuation in temperature, impact damages, and more. The casing is also insulated to keep the water flowing through it warm before it flows back into the pool.
If you opt for a solar heating system, you won't have to think about the casing. This type of pool heater is designed to spread out so that it can absorb the maximum amount of solar energy. But the black tubing can corrode over time due to pool chemicals.
Winterizing
If you need to winterize your pool, you'll need to prepare your filtration system, heater, pump, and other components for the cold temperatures. This keeps your hoses, filters, brackets, and all other internal components safe from freezing temperatures, and ensures they remain in good working order from season to season.
Solar heaters have to be completely removed to winterize them safely. Similarly, electric and gas heaters should be winterized by removing the hoses and power sources, removing water, and securely storing the parts in a dry location for the winter.
Maintenance
As with other parts of your pool, your heater requires regular maintenance. This includes cleaning it, repairing it, and, depending on climate, winterizing. Passive solar options rarely need an inspection. But if you have an electric or gas heater, consider scheduling an annual professional maintenance inspection to make sure works correctly.
If you're concerned about regular maintenance and repair, purchase a pool heater than has a longer warranty period, making it possible to get service, parts, or a new unit if needed.
Frequently Asked Questions About Above Ground Pool Heaters
Looking for more help picking out the best pool heater? Here are some common questions and answers.
What's the best way to heat an above ground pool?
The fastest way to heat an above ground pool is with a gas pool heater. They can raise your water temperature by up to 30 degrees. But the most cost-efficient, effective method is a heat pump. Just keep in mind that pool heat pumps are less effective in dramatically colder temperatures.
Solar pool heaters are the cheapest and most energy-efficient option. But it will take several days to increase your water temperature with a solar pool heater.
How much does it cost to heat an above ground pool?
It can cost anywhere from $0 per month (solar heater) to $800 a month (propane gas heater) to heat your pool. It depends on the type of energy you're using. Propane tends to be more expensive than natural gas. And direct flow electric heaters use more power than heat pumps. According to PoolResearch.com, a heat pump costs up to $200/month to heat a pool compared to a direct flow electric heater which costs $600/month.
Can you install an inground pool heater on an above ground pool?
Not all pool heaters are designed to work with above ground pools. But there are many models that are built for both inground pools and above ground pools. Just keep in mind that gas heaters can raise your water temperature by 30 degrees or more. So some models may be too powerful for a smaller, above ground pool.
What is the cheapest way to heat an above ground pool?
The cheapest way to heat a pool is with a solar heater setup. This involves running your pool water through heated, black tubing that's naturally warmed by the sun. You can make these yourself or purchase them online. Just keep in mind that things like solar pool covers or solar rings only help retain heat, not add heat to your pool. If you've already got a pool heater and you want to reduce your power or gas bill, use these methods to help hold in as much heat as possible.
What size heater do I need for my above ground swimming pool?
The size of pool heater you need depends on the volume (or cubic square feet) of your pool and the length of your swimming season. Smaller pools that hold up to 13,000 gallons can get by with a 50,000 BTU heater. Larger pools that hold up to 21,000 gallons need at least 85,000 BTU. Bottom line, the larger your pool, the more BTUs you'll need to warm the water efficiently.
Need More Pool Maintenance Help?
The post The Best Above Ground Pool Heater of 2023 appeared first on Swim University®.